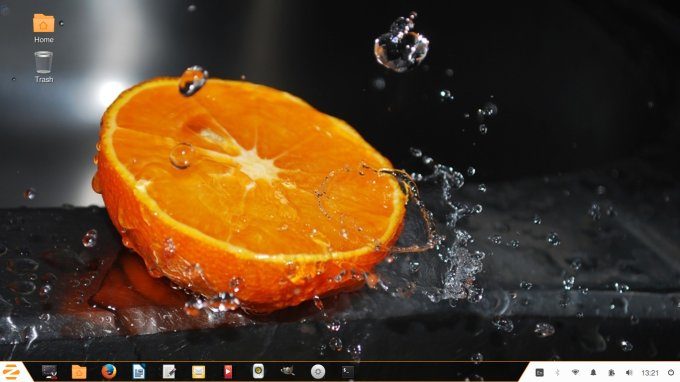 A review written by Jason Evangelho from https://www.forbes.com
Zorin OS 15 launches today, and I'm going to go out on a limb and proclaim that Zorin OS is the best desktop Linux distribution you've never heard of. Then again, it's quietly had more than 17 million downloads since the initial Zorin OS 1.0 launch in July 2009. And though DistroWatch is far from a reliable metric, Zorin OS is ranked higher on that site than KDE Neon, Red Hat, Arch Linux and my current daily driver: Pop!_OS.
Zorin OS 15 promotional image Zorin Soft
Zorin OS first crossed my radar a couple months ago, when co-founder and full-time developer Artyom Zorin emailed me about the new features in Zorin OS 15 (which launches today). A few things jumped out at me, like a touch interface that goes beyond merely supporting touchscreens. It maximizes space for your apps and other content, and has several multi-touch gestures similar to what Deepin recently introduced in version 15.9.
Then there's the addition of native Flatpak support to compliment out-of-the-box Snap support. And the slick Zorin Connect app for syncing your Android phone with your PC.
Plus, Zorin has Linux gamers covered (more on that in a bit).
Zorin OS 15 also brings dynamic wallpaper to the table, which changes based on the time of day. The entire theme can adapt, switching automatically to Dark Mode at night.
Examples of dynamic wallpaper based on time of day Jason Evangelho
The list goes on, but I've had the opportunity to test drive the final release of Zorin OS 15 and I'm nothing short of impressed. This is a distro worth paying attention to, particularly for the many millions of people still using Windows 7 who are feeling increasingly anxious about Microsoft yanking the comfort of security updates for the aging OS next year.
For that matter, it may be the ideal OS for any newcomer wading into Linux desktop waters. Zorin OS feels like a Linux distribution truly tailored for beginners, with a sharp focus on simplicity and ease of use. And that's a very important thing.
About Zorin OS 15: Core Vs Ultimate
Differences between Zorin OS 15 Core, Ultimate and Lite Zorin Soft
Zorin OS 15 is based on Ubuntu 18.04.2 LTS and utilizes the GNOME (currently 3.30.2) desktop environment by default, though a Lite version featuring Xfce is coming later this summer.
Zorin OS 15 currently ships in two distinct versions: Ultimate and Core.
The Core version is free, and includes a perfectly capable selection of default installed apps similar to what you'll find in Ubuntu. It's not by any means "dumbed down," nor can you detect noticeably absent software.
The Ultimate version, which I'm currently reviewing, costs 39 Euros (or about $43 USD) and is jam-packed with features and a boatload of software that should appeal to a wide range of users. To put it in perspective, the Ultimate ISO is about 4.2GB, while the Core version of Zorin OS 15 is 1.6GB.
Essentially, you're paying for the convenience of pre-installed open source software, extended desktop theming, and installation support. You may also offer up your cash just to support a distro that is, surprisingly, created and maintained by only two people: Artyom Zorin and his brother Kyrill. The brothers started the project in their teens (12 and 14 respectively), and have slowly grown it into a success. Artyom Zorin tells me that Ultimate edition customers have made it possible for Zorin OS to thrive and remain a full-time project.
(It's staggering to think that Zorin OS is this evolved, and the two brothers developed it while first learning how to program!)
Briefly circling back to the Windows 7 end-of-life discussion, the Zorin brothers say they're planning to expand the team towards the end of 2019. They say they're on-track to launch an organization-wide computer management SaaS (Software as a Service) tool which will make it easier for more businesses, schools and government customers to switch from Windows to Zorin OS.
"We were inspired to begin expanding and creating this tool after we saw that the city of Vicenza in Italy made the switch to Zorin OS a couple of years ago," says Arytom Zorin via email.
Ok, here's a sampling of the software in Zorin OS 15 Ultimate:
Graphics: Blender, Darktable, Krita, LibreCAD, Synfig Studio
Office + Productivity: LibreOffice, FocusWriter, GnuCash, HomeBank
Video + Audio: Ardour 5, Audacity, Handbrake, Kdenlive, Kodi, OBS
Games: 20-odd open source games including SuperTuxKart, Warzone 2100 and Neverball
For creatives, there's a lot to appreciate and use here.
Simplified Windows-style layout in Zorin OS 15 Jason Evangelho
The same Windows-style desktop with dark mode enabled. Jason Evangelho
The Ultimate edition also has some slick and simple ways to make Windows and macOS users feel comfortable. With one click in the Zorin Appearance app, you can arrange your menu, panel, system tray and all other desktop elements to easily resemble a couple different familiar Windows layouts, macOS layout and even Unity. There are a total of 6 built-in configurations.
Beyond that, you can easily tweak fonts, icons, titlebar, panel behavior, and a host of other options – without needing to hunt down and install any extensions.
A macOS-style layout with dark mode enabled Jason Evangelho
I also took YouTube and Netflix for a spin, and am happy to report that I had zero issues streaming video on Firefox. It's always nice when the necessary codecs are pre-installed.
Now, please remember that I'm always approaching my Linux impressions with a beginner hat on. Any distribution that takes focused steps to make the Windows-to-Linux transition easier gets points in my book. And many do, but so far Zorin OS 15 is just so clean and polished. I don't really anticipate a learning curve for new users.
Thoughtful Touches For Gamers
I'm really bullish when it comes to making it as straightforward as possible to get your Linux distro installed and start gaming. Pop!_OS is one of the pioneers in that regard, offering the Nvidia proprietary driver right on the ISO (for newbies, this means no need to download that Nvidia driver, or even install it. It gets installed alongside the OS).
Ubuntu will take the same approach with its next version, but some distros go above and beyond.
Zorin OS 15 does three things I love.
First and foremost, you can install the proprietary (more performant) Nvidia driver during the OS installation.
The second thing: there are normally some additional moving parts necessary to use Proton – the compatibility tool that allows Steam gamers to play Windows games on the Steam for Linux client. Zorin automatically pulls down and installs the Vulkan API dependencies when you download and install Steam. The latest Nvidia drivers are also available without having to enable any additional software sources (or "repositories.")
Finally, I'm quite an advocate for Lutris, a piece of software that makes it really easy to play Windows games from the Epic Games store, Origin and other clients. Not only is Lutris available in the Zorin OS software store, but it automatically grabs Wine 4.0 which is required for many Lutris games to work properly. In other distros there are sometimes several extra steps to get all this humming smoothly.
The one small hangup that may present itself is that Zorin OS is based on Ubuntu 18.04.2 LTS. Meaning long-term support and stability is preferred over bleeding-edge software versions. So, the slightly older kernel (4.18 at time of this article) and open source MESA drivers for AMD Radeon users might introduce a hitch or two when it comes to high-end gaming (specifically for Radeon Vega or Radeon VII users). But I'm adding Zorin to my Linux Gaming Report, and I'll report back on that front as soon as possible.
Zorin OS 15 Ultimate with dark theme and macOS-style layout Jason Evangelho
Recommended Reading: For a deeper understanding of Linux gaming, read my ongoing Linux Gaming Report.
Closing Thoughts
I've only spent 48 hours with Zorin OS 15, and I intend to spend a lot more time with Ultimate, Core and the upcoming Lite version featuring Xfce. So please don't treat this as a final review. But I am really enthralled by this distro, especially with its simplicity and focus on appealing to existing Windows and macOS users. It's worth checking out if you're a Linux veteran, and definitely worth recommending to friends and family interested in ditching Windows or macOS.
Here's a bonus bit of praise. Check out the default start page is for Firefox in Zorin OS. Sure, it's just directing you to a page hosted on the Zorin servers, but it's still a cool, elegant solution for people always firing up their browsers to do research or get a question answered.
(If the GIF below doesn't work, click here to use it yourself.)
I love this Jason Evangelho (created with Peek)
Ultimate + Core System Requirements:
| | |
| --- | --- |
| CPU | 1 GHz Dual Core – 64-bit |
| RAM | 2 GB |
| Storage | 10 GB (Core & Education) or 20 GB (Ultimate) |
| Display | 800 × 600 resolution |
Download Zorin OS 15
If everything works out, Zorin OS 15 should be available by the time you read this. You can download the Core or Ultimate editions at www.zorinos.com. If they haven't pushed the live site yet, you'll find it at new.zorinos.com.