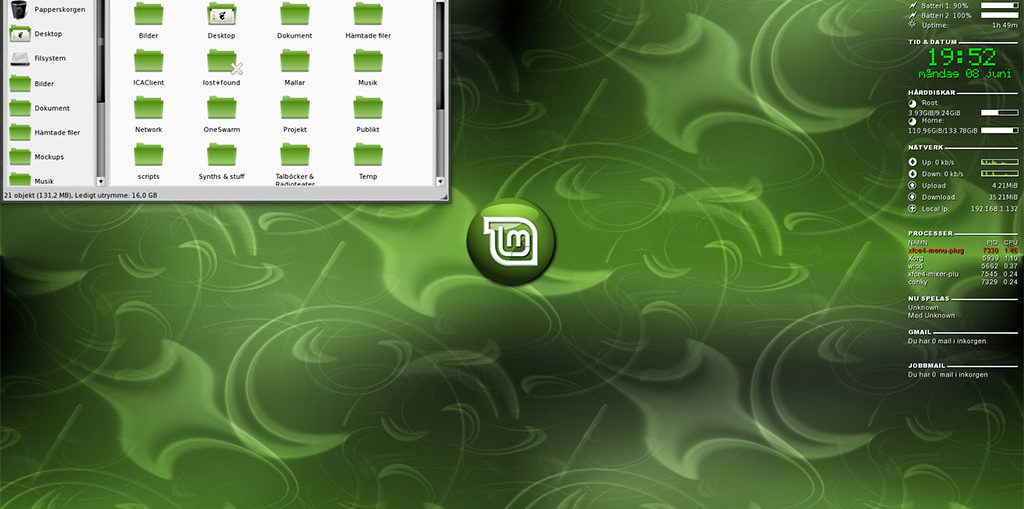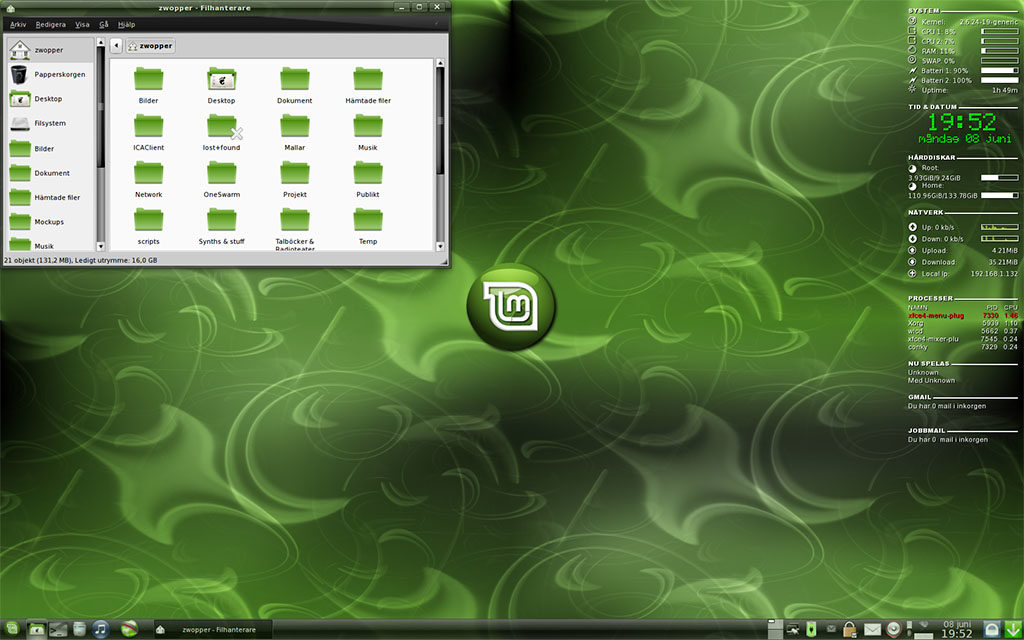 A review written by M.Hanny Sabbagh from https://fosspost.org
Linux Mint is one of the most popular Linux distributions of all time. I have been seeing people using Mint everywhere on their desktops, and when I used to ask them about "Why Mint?" they simply say "It just works". And indeed, it does.
The distribution's developers have been on a mission since 2006 to create a user-friendly Linux distribution which would suite almost any user for it. More importantly, everything a new user for the Linux world needs is installed/ready for installation in Mint, which is not the case in other distributions with other purposes.

Linux Mint 19 "Tara" was released few days ago with huge updates for its Cinnamon, MATE and XFCE spins. You can upgrade to the new release or download the ISOs now. In this post we would like to share our experience so far with Mint 19.
Linux Mint 19 Review
The default Linux Mint 19 desktop looks elegant:
If you are coming from a new installation, a new welcome wizard will appear telling you what to do know with your system:
The good thing about it is that it allows the user to know what software he should launch after installation. If he checks these programs he will definitely be ready to go:
And as you can see, there are links for the official documentation and support forums.
One of the new software in Mint 19 is a program called "Timeshift". Which is a program that allows user to create continuous snapshots/backups of his current system (the entire disk). It supports both Btrfs (on Btrfs filesystems) and rsync (if you are using non-Btrfs filesystem like ext4):
The program is full of options and features. You can use it to automatically backup your system on specific time:
The nice thing about is that it tries to not use much disk space for backups. On a Btrfs filesystem this is easy due to its structure, but via rsync, the first full system backup that you create will be used as a base for later backups, meaning that only changes will be counted from afterwards. So if you change a file after creating a backup, only that new file will be saved, not the entire system files.
When you click on a snapshot, you'll be able to browse its files:

Mint Software Center got revamped. Now it also supports installing Flatpks (from Flathub), which will enable users to install modern up-to-date applications in a single click. However, due to runtime dependencies, it's worthy to note that each initial application downloading size is few hundreds of megabytes even if it was a small app. It is also somehow weird that they went with Flatpak over Snaps despite the last one being developed by their parent distribution (Ubuntu):

Here's the category page:
Browsing multiple apps and installing a bunch of them is fast and doesn't cause a hang, unlike Ubuntu Software Center (or GNOME Software) which would take ages.
I really like Mint Software Manager, it mainly shows you graphical/desktop apps by default in its categories and in the main interface, but you can use it to install packages too. It's so nice to deal with a beautiful graphical interface and a quick & functional one at the same time. I tried installing 10 applications in a row and all of them finished just one minute prior to choosing the last one. And with the new support for Flatpaks from Flathub, users will be able to put their hands on the latest releases of major open source programs.

Synaptic, the best graphical package manager in the entire Linux desktop history, is also installed by default in Linux Mint 19 (and also previous releases):
The update manager continued to improve in Mint. This time it was updated by adding an option in the preferences window to enable auto-upgrades. Kernel packages management were improved. too. ere's a GIF for its options:

Managing software sources in Linux Mint is still an easy process:

There's also a small tool for viewing system reports:
As usual, a nice set of new backgrounds is available in Mint 19:
Many colorful icon themes also exist:
One of the noisy things in Linux Mint is that the default search engine in Firefox is set to Yahoo. But Yahoo sucks and most likely people would want to use Google, but in Linux Mint, the option to use Google as the default search engine is removed:
This is due to an agreement between Yahoo and Linux Mint developers which enables them to receive money for each search query issued by their users. Mint developers use that money for paying the costs of the project.
Of course, such agreement is questionable but the real issue here is removing Google from the browser's option. The original Firefox does include Google and users would have been able to choose it from settings, but in Mint, it's removed, most likely to increase developers' revenues with users who wouldn't bother searching for a solution, which is a really horrible thing to do. Earning money over that much of users convenience is not good.

On our Lenovo Thinkpad x260 which comes with 4GB RAM and an SSD disk, Linux Mint 19 boots in an astonishing small time as just 5 seconds, which makes it the fastest distribution tested on that laptop so far:
mhsabbagh@mysimplepc:~$ systemd-analyze
Startup finished in 4.622s (kernel) + 1.037s (userspace) = 5.659s
graphical.target reached after 1.030s in userspace
Memory usage is not that high. Cinnamon feels way less heavy on the PC than GNOME Shell, and MATE feels even more lighter:
# Cinnamon
mhsabbagh@mysimplepc:~$ free -m
              total        used        free      shared  buff/cache   available
Mem:           3378         552        2245          66         580        2543
Swap:          4095           0        4095
# MATE
mhsabbagh@mysimplepc:~$ free -m
              total        used        free      shared  buff/cache   available
Mem:           3378         460        1588          54        1328        2614
Swap:          4095           0        4095
Linux Mint 19 is available in Cinnamon 3.8, MATE 1.20 and Xfce 4.12. All of which have their own new features and improvements in the latest release (except for Xfce which is 3 years old). Mint 19 also comes with Linux kernel 4.15, Firefox 60, LibreOffice 6.0.3, GIMP 2.8 beside many other small utilities and programs depending on the desktop environment you choose.
We didn't suffer any hangs or bugs with the new distribution so far. It seems that it will be safe to upgrade to it as soon as the Linux Mint team pushes instructions on how to do it from older releases.
Overall, Linux Mint 19 is amazing. In just few minutes of using Mint's set of system programs and tweaking the system to your needs you'll be able to happily start doing your daily work. It really has everything in it.
Conclusion
Linux Mint continues to excel in all tasks. If you are someone who wants his PC to just work or if you are introducing someone to the Linux world, then Linux Mint 19 is definitely the choice to go.
Linux Mint through most of its history has been a stable, elegant and smooth Linux distribution for any type of users. Many Linux users would like to try something else after Mint in order to improve their skills, but as an ordinary user who wants to watch videos, browse the web, play games, study slides and any other similar activity, Linux Mint is way more than enough.