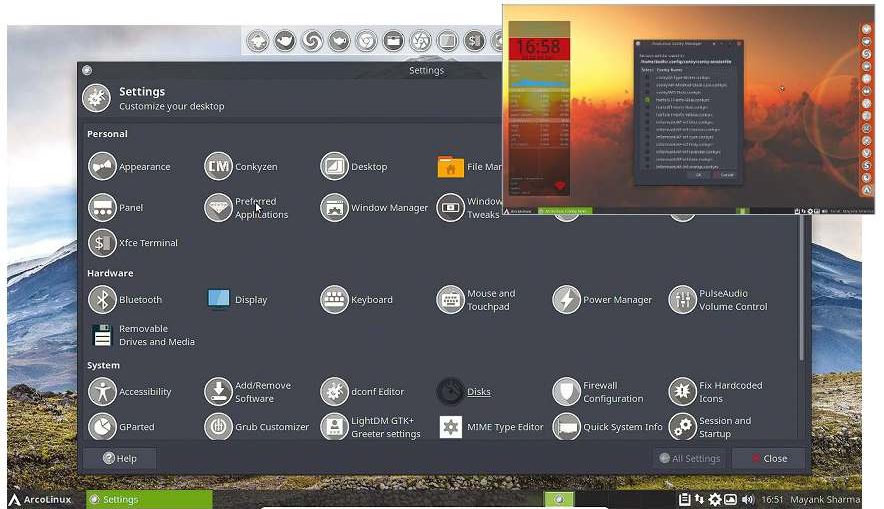 A review written by Jessie Smith from https://distrowatch.com
The distribution I have been asked most frequently to cover so far in 2018 is ArchMerge, an Arch-based project which runs the Xfce desktop environment and can be installed using the Calamares system installer. If the description sounds familiar, it should, as this summary could equally well apply to Archman, SwagArch and one edition of the Revenge OS distribution.
There are two main features which set ArchMerge apart from its close relatives. First, ArchMerge is available in two flavours. The full featured desktop edition ships with three graphical user interfaces (Xfce, Openbox and i3). A second, minimal flavour is available for people who want to start with a text console and build from the ground up.
The other point which helps ArchMerge stand out from the crowd of Arch-based distributions is its documentation. Arch Linux is famous for its detailed wiki, and rightfully so. ArchMerge takes a slightly different approach and, instead of supplying detailed pages for virtually every aspect of the distribution, the project supplies quick overviews and tutorials for common tasks and issues. These overviews are each accompanied by a video which shows the user how to perform the task.
The ArchMerge website places a strong emphasis on learning and the tutorial pages guide visitors through how to install the distribution, how to configure the desktop, how to install additional software and how to set up file synchronizing through Dropbox. There is also a section dedicated to fixing common problems, a sort of FAQ for distribution issues. Since there are videos for the topics covered, we are shown where to go and what each step should look like, rather than just being given a written description.
The live disc
The full version of ArchMerge is approximately 2GB in size while the minimal edition is just under half that size with a 960MB ISO. I decided to use the full edition for simplicity's sake. Booting from the distribution's ISO loads the Xfce desktop environment. When the desktop loads we find a dock placed down the left side of the screen and a panel at the bottom of the screen. The dock holds launchers for various applications while the bottom panel houses the application menu, task switcher and system tray. The Calamares system installer automatically launches when the desktop finishes loading, making it easy to get the installation process started.
ArchMerge 6.4.1 — Browsing the application menu
(full image size: 1.8MB, resolution: 1280×1024 pixels)

Calamares is a graphical system installer which is increasingly popular among Arch-based distributions. ArchMerge does not appear to have customized the installer so I won't dwell on it. Calamares walks us through selecting our preferred language, time zone, partition layout and assigning our account a password. Installing the distribution was a problem-free process and the system was up and running in about twenty minutes.
Early impressions
ArchMerge boots to a graphical login screen. Here we can sign into the Xfce, Openbox or i3 graphical environments. The only unusual thing I noticed about the login screen was I didn't see any method for shutting down or suspending the computer. I had to sign into my account in order to shutdown the system.
I used Xfce pretty much exclusively during my trial and found the desktop to be very responsive and pretty easy to use. There is no welcome screen or other pop-ups that appear when we start using the distribution. The only notifications I saw were ones indicating new software updates were available. To download these updates I could click a red icon in the system tray which would bring up a window listing all available updates. From there we can mark which new packages we want to download and apply to our system.
ArchMerge features many different wallpapers and the background changed each time I logged in. There is an icon in the system tray which brings up options related to the desktop wallpaper. We can customize the background slide show quite a bit, or disable it entirely.
I found, at least early on, that the dock panel on the left side of the desktop distracted me. The dock places focus on icons the mouse pointer hovers over and this meant I often had an undulating bar on the left side of my screen as my mouse passed over the dock. After a few days I got used to this visual change and could ignore it.
Hardware
I experimented with ArchMerge in two test environments. When running the distribution on my desktop computer, ArchMerge worked well. My hardware was properly detected, everything worked smoothly and the Xfce desktop offered a very fast and smooth experience. Things went about the same in VirtualBox, with the distribution working quickly and without fault. ArchMerge automatically integrated with VirtualBox and was able to use my host system's full screen resolution. In either environment a fresh copy of ArchMerge required about 6.5GB of drive space and Xfce sessions used about 540MB of memory.
Software management
ArchMerge uses the Pamac graphical package manager. Pamac divides software into different tabs or groups based on the software's status (installed, an update, or available for download). I found Pamac worked quickly and the interface was responsive. I like the way Pamac has a simple, package-oriented layout yet still does a nice job of dividing available software into categories to make items easier to find.
ArchMerge 6.4.1 — Installing updates with Pamac
(full image size: 1.2MB, resolution: 1280×1024 pixels)

Earlier I mentioned using Pamac's update section to install new packages. The first day I was running ArchMerge there were many updated packages available, totalling 612MB in size. Over the next few days, a handful of new updates regularly trickled in. All the new packages downloaded and installed without any problems.
Tutorials
The main feature which makes ArchMerge stand out from other members of the Arch Linux family is the project's documentation. Unlike Arch, which has a highly detailed and exhaustive wiki, ArchMerge takes a more focused approach. The ArchMerge documents mostly focus on common issues and beginner concepts. This is a mixed blessing as it means there is less clutter in ArchMerge's search results (we don't need to figure out which of the dozen 10-page wiki articles might be the right one), but it also means the project may not have the specific information we want.
For beginners, at least, I think ArchMerge's focus makes sense. I feel it's good the project is looking at challenges newcomers are likely to have and addressing those. Arch is ideal for people who want to know and customize their whole system and the extensive wiki makes sense for that situation. ArchMerge is taking an approach that probably makes sense for the average home user who wants to know how to install Chrome, burn a disc, change their wallpaper and so on.
ArchMerge 6.4.1 — Browsing on-line tutorials
(full image size: 596kB, resolution: 1280×1024 pixels)

One of my few issues with the ArchMerge approach to documentation is that most of it is in video format, which is difficult to search or quickly scan for an answer. The written portions of the project's tutorials are mostly a summary of the commands and concepts discussed in the accompanying video. The actual commands and steps are not written out. It is expected that we will usually watch the video and see the steps performed on the presenter's screen. Some videos are lengthy – the package management tutorial is a full 17 minutes – and I have mixed feelings about this. A long, on-screen demo of package management is probably ideal for newcomers; it's nice being able to see someone else perform a task. Personally, I like text documents where I can quickly scan for a specific example or explanation, but I admit I'm not the intended audience of the the video lessons.
Sometimes the ArchMerge tutorials refer to Arch's wiki. For example, the tutorial page on installing the Chrome web browser mentions Arch's user repository (AUR) and links to an Arch article on the many tools which can be used to install software from the AUR. This gives users more information which will likely be useful the longer they explore Arch-based distributions.
Included software
Much of the software applications which ship with ArchMerge are standard, open source offerings such as Firefox, LibreOffice and the GNU Image Manipulation Program. However, the distribution ships with a few surprises and an unusual amount of duplication. For instance there are at least three web browsers included by default (Firefox, Chromium and Vivaldi), several image utilities (Darktable, GIMP, Inkscape, Nomacs and Shotwell) and there are at least five different virtual terminals (UXTerm, Termite, Xterm, Xfce Terminal and Cool Retro Term). I only found two video players (VLC and Parole) and one audio player (Lollypop). ArchMerge's full edition ships with multimedia codecs so we can play just about anything out of the box.
ArchMerge 6.4.1 — Running LibreOffice and VLC
(full image size: 336kB, resolution: 1280×1024 pixels)

ArchMerge includes many configuration tools for customizing its desktop and window managers. Plus there are tools for managing printers and setting up a firewall. The distribution supplies us with the Thunar file manager, version 7.2 of the GNU Compiler Collection, systemd and version 4.14.15 of the Linux kernel.
One of the few features of ArchMerge I did not enjoy was the collection of command line aliases. Some of the 30 preset Bash aliases are helpful, but some conflict with the way I expect commands to work or throw errors when used with certain parameters. This meant I spent time undoing the preset aliases I didn't want, especially those for free, wget and ps.
Another quirk I ran into, when I first started using the distribution, was most web browsers I opened would prompt me for a keyring password multiple times. Chromium, Chrome and Vivaldi all did this at first; Firefox was the only exception. Most distributions I have used lately do not prompt for the keyring password and it was an annoying feature I soon worked around.
ArchMerge 6.4.1 — Adjusting desktop notifications
(full image size: 623kB, resolution: 1280×1024 pixels)

Conclusions
From a technical aspect, I do not think ArchMerge brings much to the table that sets it apart from the buffet of other Arch-based distributions featuring the Xfce desktop. The silver icon theme is admittedly unusual and a visual breath of fresh fair. The ArchMerge distribution, on its own, does some things well and has a few bugs. On the whole, it balances out as a pretty good experience. The distribution has a good installer, a good package manager, a good desktop environment and a busy application menu – much like a few other Arch-based projects.
What sets ArchMerge apart is the focus on providing beginner friendly documentation and video tutorials. Whether we want to install Steam, verify a download or set up a virtual machine, chances are someone has created (or will create) a guide for doing so. ArchMerge's videos do not replace Arch's wiki, but it does act as a friendly way for the presenter to demo how to perform some common tasks. I think, for beginners at least, it is a valuable resource.
* * * * * Note: After this review was written, the ArchMerge project let us know it is in the process of changing its name to ArcoLinux. For now the existing ArchMerge links and domains still exist, but will forward to the new ArcoLinux website.
* * * * *Hardware used in this review
My physical test equipment for this review was a desktop HP Pavilon p6 Series with the following specifications:
Processor: Dual-core 2.8GHz AMD A4-3420 APU
Storage: 500GB Hitachi hard drive
Memory: 6GB of RAM
Networking: Realtek RTL8111 wired network card
Display: AMD Radeon HD 6410D video card