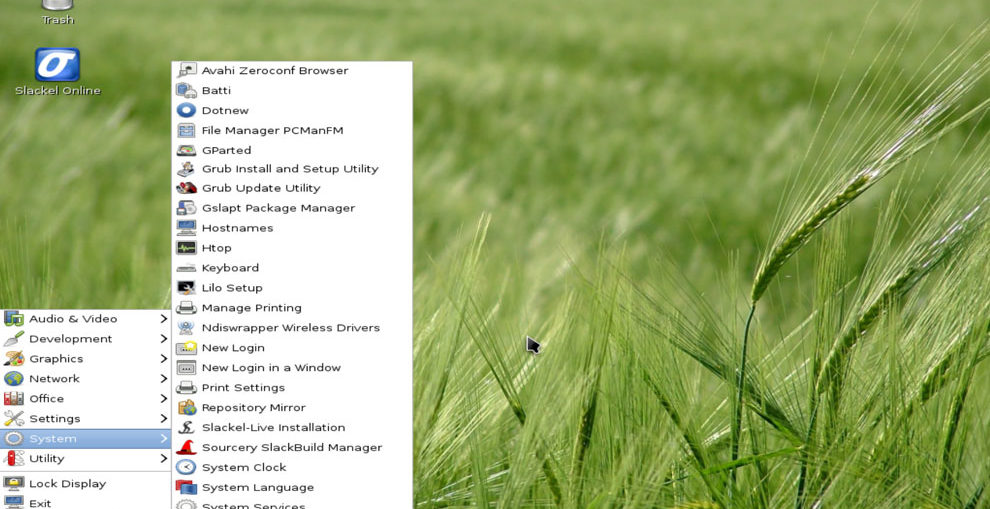 A review written by Joshua Allen Holm from https://distrowatch.com
Based on Slackware and Salix, Slackel calls itself a "Hellenic Linux distribution." Befitting its Greek origin, the distribution comes with a number of Greek localization packages pre-installed. In addition, it provides more software pre-installed than the latest Openbox release of Salix and provides newer packages by including software from Slackware's -current development branch.
According to the Slackel website, the distribution is available in three editions (KDE, Openbox, and Fluxbox), but the images for KDE and Fluxbox are older. Only the Openbox image has a new release, so images based on the other desktops currently ship with older packages. For this review, I downloaded the 1.3 GB Slackel 7.0 64-bit Live Openbox image and gave it a test drive.
Installing Slackel
I will be completely honest, my initial attempts to get the image I downloaded copied to a flash drive were problematic. I first tried using the shell script included on the ISO, but every attempt gave me an error message about copying efi.img to the flash drive because there was not enough free space left. The partitions on the flash drive are created by the script, so it should have been able to create a partition large enough to hold all the files it needed to copy. I then booted the image in a virtual machine with a USB drive passed through and tried to create a live USB drive using the graphical installer, but I could not get the "Copy live system to USB" button to become active no matter what I tried. Clicking on the "Copy live system to USB" button caused the installer to crash. After testing the distribution out in a virtual machine to be safe, I eventually used the GNOME Disks application to copy the ISO to a flash drive, which was completed without problems.
Slackel 7.0 — The system installer
(full image size: 1.1MB, resolution: 1366×768 pixels)

Once I got a usable USB flash drive created, I booted Slackel and found the experience to be pretty typical. However, I did notice a difference between booting using the legacy/BIOS boot option, which is what I was using in a virtual machine, verses booting using EFI. On the GRUB screen for BIOS boot, pressing F2 on the screen after language selection provides more details than the EFI equivalent. Normally, this would be a minor issue, but the extra information missing from the EFI boot method includes the default passwords for the root and user accounts. In order to run the installer the user has to enter the password for the user account (both the username and password are "one"), so that information needs to be as discoverable as possible. The information is included in the release announcement in the Slackel forums, but it is possible to download the disc image without ever running across that information.
Slackel 7.0 — The Openbox environment
(full image size: 1.5MB, resolution: 1366×768 pixels)

Slackel's desktop and included software
The Slackel's Openbox desktop environment is a standard Linux desktop experience. The panel at the bottom of the screen has the application menu, quick launch icons, task bar, virtual desktops, and various panel applets, including a clock. Nothing extraordinary. The included software is much the same as other distributions: Firefox 45 ESR, Thunderbird 52, LibreOffice 5.2, and many of the other typical programs come installed by default. Though lightweight alternatives are also included: Midori for web-browsing, Sylpheed for e-mail, AbiWord and Gnumeric for word processing and spreadsheets. All this runs on a Linux 4.4 kernel, with Linux 4.9 already available as an update, so there should be few hardware-compatibility issues for most users.
Installing additional software
If the included software is not enough, there are plenty of ways to add additional software. In additional to the traditional Slackware command-line utilities (e.g., installpkg), Slackel provides Gslapt and Sourcery as graphic tools to find, install, and upgrade packages. Gslapt provides an APT style experience and Sourcery is a graphic interface for SlackBuild. When using Gslapt there are packages from Slackware, Salix, and Slackel repositories. The sources for the SlackBuilds are Salix repositories. I found Gslapt an excellent way to install packages and keep the system updated, but did not really use Sourcery that much. There is one major drawback to using Gslapt, not with the program itself, but the Slackel repositories are super slow. When I installed a package from a Salix repository, the download was much quicker than the Slackel repositories hosted in Greece.
Slackel 7.0 — The Gslapt package manager
(full image size: 124kB, resolution: 1366×768 pixels)

In addition to the standard software installers, there is a specialized installer for installing patent encumbered media codecs. This application is from Salix, but it works equally well on Slackel. This installer provides a way to install all the required media packages with just a few clicks, instead of having to hunt for all of them in Gslapt. The installer even provides a helpful warning about the patent issues, so that users are notified about the issues and people in regions where that is a problem can proceed or cancel at their own peril.
Slackel 7.0 — The media codec installer
(full image size: 1.1MB, resolution: 1366×768 pixels)

The Slackel community
Software is one thing, but distributions are nothing without a community to support them. In Slackel's case this is an area that could be improved. The forums have very few posts and the mailing list has even less activity. While Slackel does benefit from the Slackware and Salix communities, having a few more highly engaged Slackel users might prove beneficial. I certainly do not expect every small distribution to have communities that are as large as those of Debian, Fedora, Ubuntu, etc., but having someone to engage with beyond the developer and a small handful of posters would make for a better experience for new users. In addition, it might help the developer identify and solve some of the various annoyances I have mentioned in my review. So, if you are a Slackware enthusiast looking to donate some of your time, Slackel could benefit from having a few more people engaging with the developer and users.
Slackel 7.0 — Running the Firefox web browser
(full image size: 319kB, resolution: 1366×768 pixels)

Final thoughts
Slackel is a nice distribution, not perfect, but nice. It adds enough to its Slackware/Salix lineage to provide some benefits over those distributions, mostly in the form of newer software being included on the disc and more packages than Salix includes on its disc. It is especially useful for Greek speakers who want to have Greek localization packages included on a live image. However, there are issues that really need to be cleaned up. If some of the things I mentioned above get cleaned up, Slackel 7.1 could be great, but for now, Slackel 7.0 has a few headache inducing problems.
Working on this review by running Slackel for a few weeks and briefly testing out the latest releases of Salix and Slackware was an interesting and nostalgic experience. I ran Slackware on one of my main computers about a decade ago, so it was interesting to see how much Slackware has — and has not — changed over the years. While the Slackware family of distributions are not my mainstays anymore, I applaud anyone working on Slackware and Slackware-based distributions. Slackel and the rest of the Slackware derivatives are interesting and welcome members of the large family of Linux distributions. I just hope that others, especially those with Slackware skills and experience, feel the same way and donate their time to make Slackel's community a little more vibrant and active.
* * * * *Hardware used in this review:
My physical test equipment for this review was a Lenovo Ideapad 100-15IBD laptop with the following specifications:
Processor: 2.2GHz Intel Core i3-5020U CPU
Storage: Seagate 500GB 5400 RPM hard drive
Memory: 4GB of RAM
Networking: Realtek RTL8723BE 802.11n Wireless Network Adapter
Display: Intel HD Graphics 5500